Question: Should I Remove the Laptop Battery For A Desktop Replacement Laptop?
I have a laptop at home which I use as a desktop replacement. As such, 99% of the time the laptop is being used it is plugged in. I wonder if I should remove the battery so that it is not permanently being charged, or does the laptop cut off the current to the battery once it is fully charged? I do unplug the laptop when I turn it off.
Answer:
No, you don't need to care about battery when using a laptop as a desktop replacement,  the laptop don't charge battery all the time,  the battery only be charge in the condition when battery level is lower than 95% (or other level).
It is out of date that some articles said " Remove the battery – making sure that it is charged to 40% and store it in a dry, warm place. Ensure that it is wrapped protectively and nothing will be dropped on it ".
No cate
Related Articles
Other Product
Protect Laptop Battery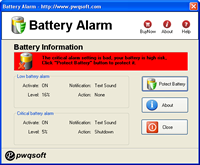 Battery Alarm is battery protection solution for windows laptop, it is designed to protect laptop battery from deep-discharge, the laptop battery may last for 3 years or more after using this software.
Google Calendar Desktop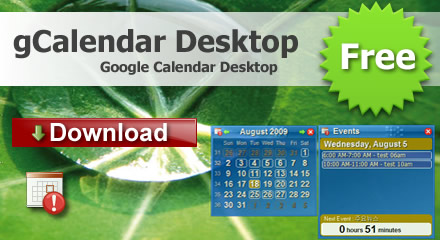 gCalendar Desktop is a google calendar client and events reminder that lives embedded on your desktop, it completely integrates with google calendar, displays all Google Calendar events in the desktop and system tray. it will the alert message notifying you when the time for next event occurs.