Lithium-ion batteries are the newest technology batteries and offer several advantages over NiMH and NiCd batteries. Lithium-ion batteries are preferred for their lighter weight and higher performance. Lithium-ion batteries are typically 20-35% lighter and will provide 10-20% better performance than a NiMH battery of equivalent mAh rating.
Lithium-ion batteries are also unique in that they are not susceptible to the "memory effect".   A new Lithium-ion battery will benefit from an initial "conditioning" of the battery. For the first 3 charge cycles, fully charge the battery overnight  before recharging. Once conditioned, Lithium-ion batteries will perform best when charged at a rate somewhere between a conventional slow charge and a rapid charge. When rapid charging, Lithium-ion batteries require a charger designed to charge Lithium batteries.
To achieve a true full charge when rapid charging, the battery needs to be slow charged the last 10-15% of its charge cycle. Most "intelligent" desktop and Lithium-battery rapid chargers provide this capability. A Lithium-ion battery may be damaged by extensive overcharging (continuously on a charger for more than 24 hours).
No cate
Related Articles
Other Product
Protect Laptop Battery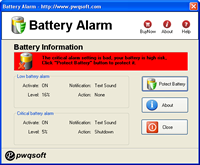 Battery Alarm is battery protection solution for windows laptop, it is designed to protect laptop battery from deep-discharge, the laptop battery may last for 3 years or more after using this software.
Google Calendar Desktop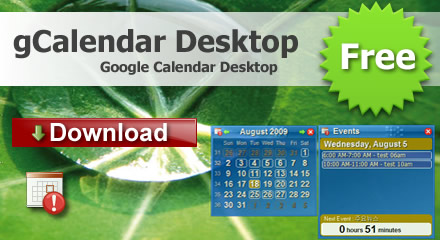 gCalendar Desktop is a google calendar client and events reminder that lives embedded on your desktop, it completely integrates with google calendar, displays all Google Calendar events in the desktop and system tray. it will the alert message notifying you when the time for next event occurs.