"Memory Effect" is a condition of reduced battery performance (and eventual failure) due to a battery only using those cells that are fully discharged and charged on a regular basis. In other words, if on a regular basis a NiCd or NiMH battery is only partially discharged before being recharged, it " forgets" that it has usable capacity to further discharge all the way down. The result is degraded battery performance and shorter battery life because the battery is using less than it's true full capacity.
Li-ion batteries do not develop the "memory effect". NiMH batteries, while considerably better than their NiCd counterparts, are prone to developing "memory effect." However, proper care and conditioning over the life of a NiMH battery will significantly reduce the potential negative impacts.
No cate
Related Articles
Other Product
Protect Laptop Battery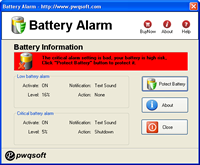 Battery Alarm is battery protection solution for windows laptop, it is designed to protect laptop battery from deep-discharge, the laptop battery may last for 3 years or more after using this software.
Google Calendar Desktop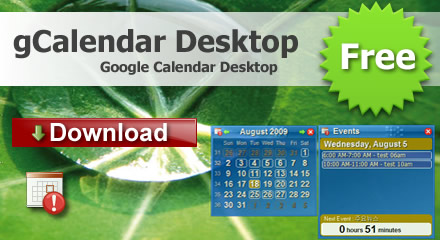 gCalendar Desktop is a google calendar client and events reminder that lives embedded on your desktop, it completely integrates with google calendar, displays all Google Calendar events in the desktop and system tray. it will the alert message notifying you when the time for next event occurs.